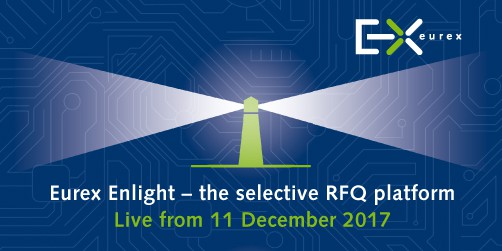 With less than two months until the onset of the new regulatory regime in Europe, investment firms and exchanges are working day and night to finalise their MiFID II plans. However, Eurex has taken this as an opportunity that goes far beyond solving regulatory issues. 
MiFID II and the BestEx problem.
One area where firms are still finding complications is around best execution, which has proven to be one of the more onerous requirements. The rules effectively increase the accountability of investment firms to achieve the best possible outcomes for their clients.  Ultimately, this is a very data-driven task which requires firms to collect, collate and synchronise large amounts of information.
"The problem for most firms, however, is that currently to provide all of this data is very manually driven, with handwritten blotters, chat and voice recordings often all forming part of a single trade formation," said Randolf Roth, member of the Eurex Executive Board.
Roth says the new selective RFQ platform, Eurex EnLight, will enable brokers to capture all responses from the selected market makers, within the context of any underlying exchange liquidity, and allow them the ability to demonstrate their own best execution policy. 
"We provide the data for brokers to argue best execution. Eurex EnLight is careful not to impose any way of trading but rather enable a data-driven proof of the decisions the broker has taken," said Roth.   Although this is a major departure from the current structure of electronic central limit order books that exchanges such as Eurex are synonymous with; it demonstrates a maturing understanding that what's best for the client is a complex business that goes far beyond price, and that for large and complex transactions, best left to the experts within those businesses to implement.
Beyond MiFID II... easing the pain.
Eurex is also cognisant that to simply offer a best execution solution is not enough.  For the successful electronification of the voice business, it needs to solve many more problems that currently exist.  "The voice business is about relationships and specific complexities around negotiating prices.  It's about the 'bringing together' of liquidity, not just taking it," Roth said.  Functionality allows brokers to selectively choose who they want to send the RFQ to, and when and to whom to further disclose information such as side and size.  This empowers the broker to manage and track disclosure, minimising leakage and ultimately to get the best possible fill for their clients.
"We haven't taken a purely electronic market and built an RFQ platform for it – we have gone out to the OTC community and asked if they want an electronic platform, and if so, what should it look like? As a result; It has certain functionalities you won't find in other RFQ platforms, and that is the real key differentiator."  Roth goes on to explain that ultimately it is the members within the OTC business that have designed Eurex EnLight, and that's why they are so excited by it.  Roth stresses "this is a truly client design led project, combining our members needs with our own ability to deliver those requirements within a regulated exchange environment on proven technology."
One of the key advantages of involving the users of Eurex EnLight in its design has been the addition of features that make life easier and more efficient for the traders and brokers directly.  For example; it can quickly manage and collate quotes from many market makers, automatically calculate the size allocations using pro-rata, equal share or price time, and simultaneously deal with them in only a couple of mouse clicks.  In addition, the population of the tickets within the exchange off-book entry service (TES) is full STP, negating the need to manually type out tickets.  This gives the brokers more time to do what they do best whilst also eliminating entry errors.  Even the market makers can use the electronic deal confirmations to improve the trade approval process and increase hedging certainty. 
Roth adds that ..."with the inevitable integration of member order management systems (OMS) the entire process will no longer require any aspects of manual entry beyond the client, from strategy definition down to trade approval."  With these types of potential efficiencies on offer, the future for electronification of the voice business looks hugely valuable to all those involved.
Evolving market structure…
With the right design, the electronification of the voice business should simplify the overall negotiation process, but it also presents key advantages for the overall market structure.
"By making this business more electronic, you can include more market makers into your RFQ, and therefore diversify the liquidity you request. It also makes it easier to contact and subsequently deal with a wider range of market makers without increasing downstream work and risks," said Roth.
"You may talk to three, four or even five market makers, but from then on it is hard to keep track of which one provided which price, in what size and with what certainty. It is difficult to 'bring about' the deal you want with too many counterparties. With an electronic platform, and with the right functionality; these tasks can be processed as easily with two market makers, as with twenty," said Roth.
With the potential of a wider range of market makers, all being accessed through a single platform, the impacts should result in a healthier diversification of client flow.  In turn, encouraging more market makers and ultimately increasing overall market liquidity.  This will encourage more client flow, and so the cycle will go on, benefiting even existing incumbents, large or small.
Beyond Fixed Income.
With the belief and commitment around the electronification of the OTC business, and in its ability to deliver world class electronic solutions, Eurex has plans for Eurex EnLight that go far beyond ETDs and even beyond its own products.
If an exchange such as Eurex really does succeed in fully understanding how to electronify the OTC business, then it looks likely that clients using cash OTC products will soon be able to get a truly independent exchange platform seal of approval via member firms - with all the benefits that go with it!  Existing Eurex members will even be able to access the new platform, Eurex EnLight, with no additional legal agreements, no implementation costs and should they wish, via the existing T7 API.
SPONSORED BY