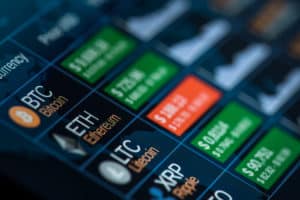 Interdealer broker TP ICAP has collaborated with Fidelity Digital Assets, Zodia Custody and market maker Flow Traders to develop and launch a cryptoasset trading platform. 
The platform will offer an electronic marketplace for spot cryptoasset trading including Bitcoin and Ethereum, as well as connection to a network of digital asset custodians for post-trade services.
The launch remains subject to approval from the UK's Financial Conduct Authority but is expected to take place in London in the second half of this year, with several clients globally already in the process of onboarding according to TP ICAP.
Fidelity Digital Assets and Zodia Custody worked with TP ICAP to develop a trading model where clients can access liquidity at the interdealer broker whilst their assets remain under custody at their choice of digital asset custodian.
The pair, which will both offer custody services on the platform, said this would provide the level of security that institutional investors expect. Flow Traders will act as liquidity provider for the new platform.
It will expand TP ICAP's digital assets business, which it originally launched in 2019 to provide clients with access and the ability to trade crypto derivatives. The business is led by Simon Forster and Duncan Trenholme with operations in London and New York and plans to expand into Asia.
TP ICAP's new crypto platform marks the latest major development in the institutional space, following several planned launches of custodian and trading crypto platforms in the last year, including Zodia which Standard Chartered and Northern Trust confirmed they would be launching in December.
"Client demand to trade spot cryptoassets is significant and growing, with interest coming from our traditional customer base across the different asset classes we operate in," said Simon Forster, co-head of digital assets at TP ICAP. "But to date many of our clients have been prevented from accessing cryptoasset markets due to current limitations in market infrastructure, with most execution venues requiring pre-funding and also acting as custodian.
"This poses challenges from a conflict of interest perspective and results in fragmented liquidity. Our partnership, and resultant new platform, is a natural evolution in market structure that will make digital assets, such as Bitcoin, more accessible for the wholesale market."
 A recent study by AIMA found that only 47% of traditional hedge funds had entered or planned to enter the crypto market, citing a lack of infrastructure and custody services as one of the main reasons for not investing in digital assets.
"With this new infrastructure, we're addressing one of the frictions in the investor experience that's unique to this nascent asset class. Now, investors can more confidently execute trades knowing their assets remain still and secure in our custody," added Chris Tyrer, head of Fidelity Digital Assets in Europe.