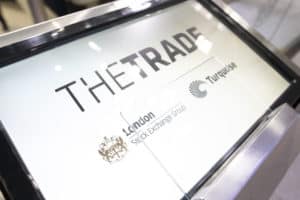 In recognition of the upcoming Leaders in Trading awards ceremony, The TRADE was invited to participate in the first closing auction ceremony at the London Stock Exchange on 14 November.
For the first time, the closing auction was conducted by a party outside of the exchange, watched by guests including several buy-side award nominees for this year's Leaders in Trading awards ceremony.
"This is the first time ever we have done this particular event and we thought we couldn't have a better gathering than to have the thought leaders amongst the buy-side community and The TRADE, as the great record of reference for our industry, to celebrate this milestone," said Robert Barnes, global head of primary markets at London Stock Exchange Group (LSEG) and CEO of Turquoise.
The Leaders in Trading awards ceremony, held on 21 November at The Savoy in London, will recognise the outstanding firms and individuals among the buy-side community, with 34 award categories across the buy-side trading, editors' choice and algorithmic trading and EMS categories.
 "On behalf of the entire team at The TRADE, I would like to thank London Stock Exchange and Turquoise for inviting us to take part in this first closing auction ceremony," commented John Brazier, editor of The TRADE.
"To be invited to take part in what is an inaugural event at an institution with such an extensive and storied history as LSEG is truly an honour and a testament to the hard work that our team puts into making The TRADE the leading publication for the buy-side."
You can find a photo gallery from the ceremony below, while speeches by Robert Barnes and John Brazier, can be viewed here.