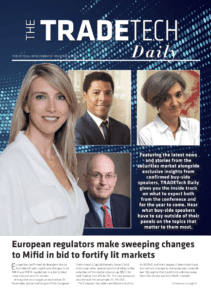 The TRADE is delighted to present the digital edition of the TRADETech Daily 2022, the official magazine of the TradeTech Europe event offering 40+ pages crammed full of news, stories, interviews and content.
Covering all the top stories of the past months and with a focus on buy-side topics, regulatory developments and industry insights, the TRADETech Daily can be accessed here.
The TradeTech Daily also comes in print format, and can be located at the event itself at the registration stand and around the conference centre.
The TRADE team is on the ground covering the conference first-hand so for a detailed look at all the key themes, topics and panels, along with video interviews and exclusive news stories, don't miss our daily newsletter – you can sign up here.
And if you're attending the event and you see any of the team, don't forget to say hello!