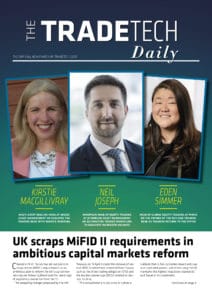 The official newspaper of TradeTech Europe 2021
Editor's note:
This year marks the second fully virtual TradeTech Europe and I'm delighted to present this issue of the official TRADETech Daily newspaper as the ultimate companion to the conference. As we gear up and listen to market participants discuss the new liquidity landscape thanks to COVID-19 and Brexit, there's a sense of anticipation in the air.
With the full conference agenda on page 29, you'll see there are several key themes that big names in buy-side trading will discuss at TradeTech this year. From systematic and automated trading to post-Brexit market structure and driving diversity across the industry, explore some of the must-see panels on page 28.
From pages 12 through to 23, the TRADETech Daily caught up with multiple buy-side trading speakers and attendees at this year's event in exclusive interviews that preview some of the most highly anticipated panel sessions.
Despite this being another year that we are unable to meet and gather in Paris, the global vaccination programme promises light at the end of the tunnel. We hope to see you all again soon as the world returns to normal but in the meantime, enjoy the 2021 virtual TradeTech conference!
Hayley McDowell
Editor, The TRADE
Click here to download the full PDF.