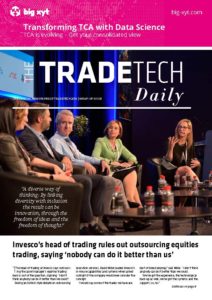 The missing piece
There was something bugging me throughout this year's TradeTech conference, something missing, but I just couldn't put my finger on it.
Had I missed a particularly important panel or interview somewhere along the line? No, The TRADE's editorial team had witnessed the BlackRock and Virtu keynotes, among other all-star panels, despite industrial action on the Eurostar and reports of four-hour queues at Gare du Nord.
Had I seen the quintessential French man wearing a well-cut suit and hat, baguette in hand? Check, within two hours of arriving in Paris actually. Had I forgotten to have lunch? Yes, but nothing new there. But then, once the conference was done and our team was taking stock en route back to London, dissecting our experiences of TradeTech 2019, the answer came to me. The missing piece this year was disagreement.
In a marked difference from previous years, where the impending arrival of the MiFID II regime meant that everyone wanted to say their piece on what was wrong with the regulation, almost all of this year's speakers from the main stage panels to the more intimate breakout stream interviews seemed to be reading from the same script on matters technological, regulatory and execution.
Depending on where you sit in the market, this can be a good or bad thing. Obviously, for us journalists, those of us that thrive on controversy, conflict and contention, such harmony isn't ideal, but for the wider industry, it's most likely a good thing that people have moved on from regulatory bickering to focus on optimisation and what really
matters when it comes down to brass tacks – improving execution. While the underlying competitive nature between banks, brokers and exchanges still exists, there was an air of consensus around the conference which saw the replacing of on-stage fireworks for conclusive and informative takeaways for the audience.
Plentiful were the panels, keynotes, interviews and debates, and the use of artificial intelligence (AI), machine learning, and data featured heavily throughout, as buy-side firms go back to the business of finding
liquidity amid shifting market structures.
To a certain extent, AI does hold a great deal of potential for improving buy-side trading outcomes and internal processes, but from a personal viewpoint (having done my time in the trenches of FinTech journalism and survived the bombardments of Blockchain Hypefest 2016™), it was pleasing to see industry experts touting the importance of patience and due diligence when it came to the practical application of this technology.
Now, let me be clear (to borrow Theresa May's more ironic catchphrase), that's not to say that there weren't exceptions to this rule. As you'll see from our coverage of the conference, there are still those
prepared to stick their heads above the parapet to voice a contentious opinion or take a bold stance.
Perhaps we'll see some more clashes of the titans when the Brexit shambles finally has some form of resolution, but for now the industry seems to be enjoying this period of stability. Just don't expect too much from AI just yet.
John BrazierEditorThe TRADE



Click here to download the full PDF.
The TRADETech Daily 2019
FILS in Philly Today 2019
FILS in Philly Today 2019 – Wrap-up edition