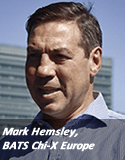 BATS Chi-X Europe has seen strong demand from the Turkish investment community, with more than a dozen local broker enquiries since it announced its expansion into the country last week.
The pan-European exchange plans to offer trading in Turkey's most liquid stocks from 3 November, its first move into a non-EU country.
BATS said there was significant demand among its existing customers to offer trading in Turkish names as it is one of the fastest growing capital markets in Europe, with €319 billion traded in 2013.
However, BATS Chi-X Europe CEO, Mark Hemsley, said the strong response from Turkish brokers was a surprising but positive development.
"The response from local brokers is a good sign and they're typically interested in both an alternative venue to trade Turkish stocks but also being able to offer trading in other European stocks to their customer base," he said.
Changes to capital markets regulation in Turkey, implemented at the end of 2012, have opened the doors for competition in the market. The Borsa Istanbul, which was created from a merger or the Istanbul Stock Exchange, Istanbul Gold Exchange and Derivative Exchange of Turkey in April 2013, dominates the market currently and last year signed a deal with Nasdaq OMX to overhaul its technology platform.
The expansion is the first new market for the exchange since BATS and Chi-X merged in 2011 and is also its first emerging market. It hopes the strong demand among local firms will help promote improved liquidity across its order book.
"With local brokers on board we'll benefit from a lot of two-way flow. Turkish brokers see this as a good way to broaden their offering to clients by adding European stocks, and our existing customers are interested in some key Turkish names, particularly in the telecoms and auto sectors," Hemsley added.
The existing interoperable clearing offering, where market participants can choose from EuroCCP, LCH.Clearnet and SIX x-clear, will be available for securities offered on BATS Chi-X Europe, while trades will be settled though Takasbank, the local central securities depositary.