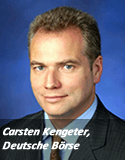 Reto Francioni will step down from his role as chief executive of exchange group Deutsche Börse to be replaced by the former head of UBS's investment bank, Carsten Kengeter.
Francioni has held the position for a decade, and has been with Deutsche Börse for 17 years. He will step down on 13 May 2015, just short of his 60th birthday.
"Everything must come to an end, even if it's not easy for me to take this step," said Francioni. "But I am convinced that it is right, and that it is a good time to do so: Mr Kengeter has been appointed as my successor, significant strategic decisions have been made, the strategic initiatives, especially in regard to the totally new and extremely tough competition of the recent years, are showing effect."
Francioni led the German exchange group through the financial crisis that rocked world markets in 2008 and has pioneered its expansion into the Asian market.
Kengeter joins the German group just over a year after leaving UBS. He joined UBS's investment banking arm as co-CEO in 2009, before also becoming chairman in 2012.
Previously he was a managing director and partner at Goldman Sachs, responsible for the areas of pensions, currencies and commodities for 12 years.
Eurex CEO Andreas Preuss has also recently extended his contract to 31 May 2018.