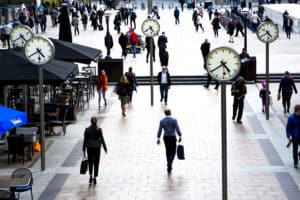 Banks and major financial institutions in the UK are being assessed on contingency plans to deal with the potential further spread of coronavirus.
The Financial Conduct Authority (FCA) and the Bank of England are actively reviewing plans across a wide range of firms, the authorities said in a statement alongside the HM Treasury, as they monitor the impact of an outbreak on businesses.
"We expect all firms to have contingency plans in place to deal with major events," the statement said. "Alongside the Bank we are actively reviewing the contingency plans of a wide range of firms. This includes assessments of operational risks, the ability of firms to continue to operate effectively and the steps firms are taking to serve and support their customers."
It added that firms are expected to take all reasonable steps to meet regulatory obligations, including ensuring the ability to enter orders and transactions efficiently and the continued use of recorded lines when trading. The FCA added that should firms meet the standards, it will not object to staff working from home or backup sites.
Various news reports have said that major banks such as Goldman Sachs, JP Morgan, BNP Paribas, UBS and Citigroup, are in the midst of testing backup trading sites on the outskirts of Central London, to ensure minimal disruption if the virus spreads.
HSBC was forced to evacuate its Canary Wharf trading floor this morning after an analyst contracted coronavirus, according to a report from Financial News. Exchange groups are also taking steps to deal with a potential outbreak.
Global markets have been hit by the spread of coronavirus, with UK and US stock markets suffering their worst week – from 24-28 February – since the global financial crisis in 2008. Markets have since rallied after multiple central banks, including in the UK and US, pledged to implement measures to support the economy.
US investment bank Goldman Sachs also banned its staff from all non-essential business travel as a precautionary measure to prevent further spread of coronavirus. JP Morgan also made a similar move the week prior.
"We want to understand the pressures [firms] are facing and will be continuing our active dialogue with firms, institutions and industry bodies in the coming days and weeks. We will keep our guidance under review as necessary," the UK regulator concluded.