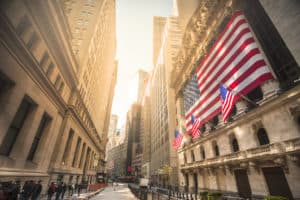 Trading and investment firms in the US could gain greater control over the equity consolidated tape, following years of debate around the alleged monopoly that incumbent exchanges hold on critical market data.
The Securities and Exchange Commission (SEC) has published a proposal in a bid to modernise the governance of National Market System (NMS) plans, which produce the public consolidated tape and disseminate trade and data from trading venues.
Under the current regime, incumbent exchanges, such as Nasdaq, the New York Stock Exchange (NYSE) and Cboe, have total control and voting power over how the consolidated tape is produced and disseminated. Although under the SEC's proposal, broker-dealers and investment firms would gain voting rights, subsequently limiting the control of incumbent exchange operators.
"The Commission has received extensive public input on issues relating to equity market structure and access to market data, as well as suggestions for how that structure should be updated to ensure that our markets continue to best serve the interests of investors," said Jay Clayton, chairman of the SEC. "Today's proposed order is designed to address issues regarding the dissemination of market data that affect the efficiency and fairness of our markets."
The proposal from the US watchdog is the culmination of intense debate among market participants, many of whom argue that exchanges have an unfair monopoly on the equity consolidated tape, which they suggest is grossly overpriced considering the supposed low-cost of production. 
Mehmet Kinak, a 19-year T. Rowe Price veteran who currently heads up global systematic trading and market structure for the asset manager, has long-been an advocate for sweeping changes across the industry, which he believes in some cases can favour exchange groups over investors. During a heated roundtable discussion at the SEC early last year, Kinak argued that brokers have no choice but to purchase more expensive equity market data products from exchange groups to meet regulatory requirements.
"What concerns me is an ecosystem that slants one direction over another, [the exchanges] set the rules and we have to follow them," Kinak told the SEC. "That's a tilted system which needs to be addressed. An ecosystem of a for-profit company that can self-regulate itself and police reform that allows it to get flow is a terrible cocktail that has been created, unfortunately, and it needs to be addressed."
Similarly, challenger exchange group IEX, alongside the likes of firms such as Virtu Financial, strongly supported Kinak's argument and slammed the incumbent exchanges for not revealing the true costs of producing the consolidated tape. Shortly after the roundtable at the SEC, IEX made the bold move of publicly disclosing its own costs of producing market data and connectivity, suggesting that incumbent exchanges could be marking up charges for such services by as much as 4,000%.
At the same time, and following the bitter dispute over transparency and costs, nine major Wall Street firms confirmed plans to establish a member-owned equities exchange to rival the incumbents. Known as Members Exchange (MEMX), those involved include Bank of America Merrill Lynch, Charles Schwab, Citadel Securities, E*TRADE, Fidelity Investments, Morgan Stanley, TD Ameritrade, UBS and Virtu Financial.
MEMX's mission is to increase competition and transparency, while reducing fixed costs and simplifying execution of equity trading in the US, with the latest technology and a low-cost fee structure. Former Instinet CEO, Jonathan Kellner, leads MEMX as chief executive, and the exchange is moving forward with its plans after gaining a green light from the SEC to launch its operations at some stage in the middle of this year.