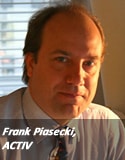 Data provider ACTIV Financial has opened a colocation source at the Australian Securities Exchange's (ASX) Australian Liquidity Centre (ALC).
"In today's advanced trading landscape proximity to the source of raw data is critical for purposes of speed and reliability," says Frank Piasecki, ACTIV Financial's president. "In-centre connectivity provides a competitive latency advantage by reducing the distance data has to travel from source to consuming application, and minimizes risk because there are less points of failure."
ACTIV says its move from processing ASX data in Singapore to processing directly within the ASX exchange colocation facility will reduce latency in their consolidated and direct feeds.
ACTIV has expanded recently into more than ten new Asian markets, including Bursa Malaysia, Indonesia Stock Exchange, Philippine Stock Exchange, Stock Exchange of Thailand and Thailand Futures Exchange.
 The ALC is a data centre providing customers with a range of communication, execution and information services including access to all ASX liquidity.  Its data centre space allows customers to place infrastructure within the same physical data centre as the ASX primary matching engine, providing access to market data and trade execution.