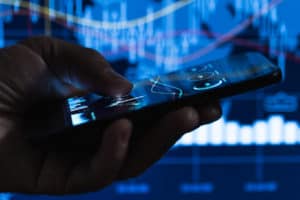 FX electronic trading specialist BidFX has completed an upgrade to its mobile trading app for institutional clients, following increased demand for more features among hedge funds and asset managers.
The move means that users of the BidFX app will be able to manage and trade spot FX, forward and NDF positions at anytime and anywhere in the world. It will also provide access to BidFX trading functionality in real-time via a secure framework.
"The FX market is constantly evolving to keep apace with new, disruptive technologies. And from being a taboo subject as little as five years ago, mobile currency trading has come a long way as the need to trade on the go via a secure access point has evolved from a nice-to-have into a necessity," said Jean-Philippe Male, CEO at BidFX.
As well as its on-the-go trading capabilities, the app can also be integrated across mobile and desktop devices with a security framework, which BidFX said passed testing at a higher standard than competing trading apps.
London-based investment firm, H20 Asset Management also commented on the importance of fast decision-making in the sector, and the need for simple integration between mobile and desktop.
"With the BidFX mobile app running in conjunction with their desktop app we can now ensure enhanced coverage across the FX markets which will further enhance our clients' liquidity in the market," said Stephane Leclerc, COO for Monaco and counterparty relationship manager at H20 Asset Management. 
Late last year, BidFX expanded its execution management system (EMS) with the addition of algorithms from Nomura and RBC Capital Markets. In March, Singapore Exchange also acquired a 20% stake in BidFX, which is a subsidiary of order and execution management systems specialist TradingScreen, for $25 million.