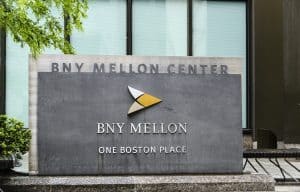 BNY Mellon has made several hires for its investment management services division, including the creation of a new front-to-back solutions role.
The world's largest global custodian has poached Mark McKeon, the former global head of investment analytics from rival State Street to lead its global front-to-back solutions.
McKeon will be responsible for advancing BNY Mellon's open architecture strategy and expanding the business's front-to-back solutions platform, which was formed last year following its partnerships with BlackRock Aladdin, Bloomberg AIM and SimCorp.
His remit will also include its partnerships with order management systems (OMS), investment operations, and trust and depository. McKeon will also work with BNY Mellon's global product head's to further develop solutions for buy-side clients.
As 17-year veteran with State Street, McKeon led its proprietary risk management and analytics solutions for hedge funds, asset managers and institutional investors.
The creation of the role signals BNY Mellon's intent to build a new business line dedicated to providing near-real-time data and analytics solutions to investment managers. The core of BNY Mellon's open architecture is to also give its clients the freedom to choose whatever front-office system is best-suited for their investment operations and trading strategies.
In addition to McKeon, BNY Mellon has hired two new relationship managers within its investment manager segment. Kevin Keefe joins from First Allied Securities where he was the president and CEO, while Cathy-Jo Reed has been hired from JP Morgan, where she previously an executive director for investor services within the investment manager franchise.
"The asset servicing industry is rapidly evolving, with digital and new operating models playing increasingly important roles in how we meet our clients' needs," said Roman Regelman, CEO of asset servicing and head of digital, BNY Mellon.
"These individuals bring unique skills to the firm, and their diverse experience will be invaluable as we continue to create a more digital client experience and transform our asset servicing business into one that drives client-centric and global solutions and is better informed through our data and analytics capabilities."