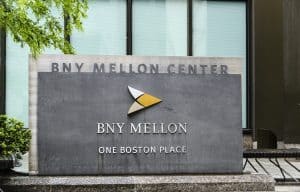 BNY Mellon has launched three new data and analytics and confirmed the expansion of its relationship with Microsoft to create data services for investment managers.
The three new solutions offered via BNY Mellon's recently-created Data and Analytics Solutions business include cloud-based Data Vault, Distribution Analytics, and ESG (environmental, social, governance) Data Analytics.
BNY Mellon said the new data services were designed to improve data management processes for the buy-side, support the customisation of investment portfolios with ESG factors, and improve the success of US-listed fund launches.
"Our clients want and need more flexibility in their cloud-based data solutions so they can remain agile to an evolving market, client, and regulatory changes. Data Vault, Distribution Analytics, and ESG Data Analytics were developed to help investment managers better manage and unlock value from their data" said senior executive vice president and head of asset servicing and digital at BNY Mellon, Roman Regelman.
At the same time, BNY Mellon confirmed that it will expand its partnership with Microsoft and implement Microsoft Azure to create data, technology, and content solutions for investment managers as part of its digital strategy to collaborate with external partners.
"We are pleased to collaborate with BNY Mellon on innovative cloud-based solutions built on Microsoft Azure to help their clients create alpha-generating opportunities and manage assets," said executive vice president of Microsoft's Worldwide Commercial Business, Judson Althoff. "The scope and scale of BNY Mellon's investment data, coupled with our portfolio of Azure products and services, will lead to solutions that enhance data as an asset and optimise the accessibility of information for investment managers."