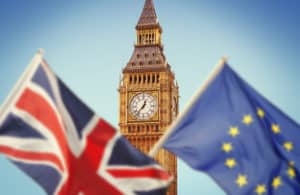 The UK's market share in euro-denominated swaps plummeted from roughly 40% to just over 10% in January this year, data by IHS Markit has revealed.  
The data published by IHS Markit on 11 February found that UK market share in euro swaps traded on multilateral trading facilities (MTFs) and organised trading facilities (OTFs) fell 30% in the first month of the year. 
It showed that market share for MTF/OTFs based in the EU, particularly Amsterdam, absorbed some of the volumes, as their market share grew from less than 10% to a quarter in the same period.
The loss in London follows the UK and the EU's failure to come to reach a decision on equivalence for the derivatives market following Brexit.
The UK and the EU have been in a stalemate with regards to equivalence in the derivatives market, with ESMA finally confirming in November that it would not be changing its stance on the derivatives trading obligation (DTO).
This decision meant derivatives had to be traded on venues within the EU or in third-country venues that had been granted equivalence and subsequently forced the Financial Conduct Authority (FCA) to submit short term changes to the DTO to avoid disruption to the $50 trillion market in December. 
"The combination of a relatively hard Brexit for financial services, the lack of EU – UK equivalence (or a progressive detailed financial services agreement) combined with the equivalence available from both the EU and UK to use US SEFs has had the effect of driving some former UK venue volume to SEFs and a number of EU venues, primarily in Amsterdam and to a lesser extent in Paris," said Kirston Winters, managing director at MarkitSERV, IHS Markit.
This is the second major blow for the UK's capital post-Brexit, after UK trading venues also suffered the loss of EU share trading in January that saw their market share in EU denominated shares drop to just 2.5% and €6 billion of trading volumes migrate to Europe.