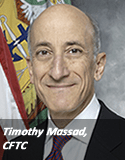 The chairman of the top US derivatives regulator is in Brussels today armed with evidence to prove that his agency's derivatives clearing regime is equal to that of Europe's.
The Commodity Futures Trading Commission and its European counterparts have been locked in a standoff over whether US central counterparties are governed by rules similar enough to Europe's, and can therefore be granted equivalence. This would allow European-based participants to clear through CCPs in the US, mainly CME.
The stalemate is plaguing the market with uncertainty and market participants have been urging regulators to come to an agreement.
Subsequently, CFTC chairman Timothy Massad is in Brussels this week to discuss the matter. The CFTC has put together data to prove its regime reduces risk in the same way as Europe's.
"The European Commission felt strongly that the CFTC needed to implement a framework for substituted compliance in addition to the existing recognition program that provides market participants in the US with access to European futures markets," Massad says in his speech.
"We worked hard to come up with that substituted compliance framework, and I believe that, if we can work through the rest of our differences, we have a framework that is satisfactory to both the EC and the CFTC." 
Part of the disagreement lies in the CFTC using a one day minimum liquidation period, while Europe requires a minimum two day period.
Massad concedes that the two-day period products more margin than a one-day, however argues that its calculations show that one-day gross margins are more than two and a half times higher than two-day net overall. 
The CFTC's data shows that its regime requires clearing houses to hold more margin than the two-day period, in response to the European Securities and Markets Authorities' stance.
European regulators granted equivalence to ten clearing houses operating in the Asia Pacific region last week, recognising central counterparties from Hong Kong, Singapore, Japan and Australia as the first institutions outside of Europe to comply with its rules. 
Now the US clearing conundrum will take precedent, because if Europe doesn't recognise US CCPs by June this year, it will have to delay new capital requirement rules again, as it did in December 2014.
This is because the cost of trading and clearing through US CCPs would rise substantially if they were not deemed as having equivalent standards to Europe.
See Massad's full speech and data here.