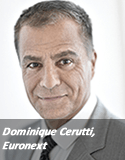 Euronext has named Jos Dijsselhof as its interim chief executive officer, after accelerating the departure of Dominique Cerutti who leaves the company just two weeks after announcing his resignation. 
Dijsselhof has operated as Euronext's chief operating officer since July 2014 after previous spells at ANZ, RBS and ABN Amro.
He helped steer the exchange through its IPO following the demerger from Intercontinental Exchange Group.
"As a team we have all worked hard to reposition Euronext as a leading capital financing centre in Europe," Dijsselhof .
"Our mission will not change and I am committed to defending the interests of the company, creating value for our shareholders and our clients, and fulfilling my role as CEO of this outstanding company."
Cerutti steps down from Euronext after six years to take up a role as Chairman and CEO of technology consultancy Altran.
Euronext had previously said Cerutti would leave on 15 July, however said this week that as a result of appointing Dijsselhof, a joint decision was made for Cerutti to leave the company immidiatly.
The Board of Euronext decided, having accepted Dominique Cerutti's resignation from the company, that it would be in the best interests of all parties to act swiftly and to appoint a replacement CEO," said Rijnhard Van Tets, chairman of the supervisory board of Euronext.
"Euronext has a clear strategy in place and it is vital that the momentum that has been created is not lost and that the company continues to execute on its plan as promised to its clients, shareholders and employees.  
"Jos Dijsselhof has been a key player in Euronext's strategy and growth since his arrival and we are confident that with him as the interim CEO, supported by the strong Managing Board the company will remain on the same track and continue to grow value for shareholders."