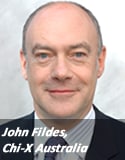 Chi-X Australia, ranked number two trading venue in Australia in terms of stock market share, says additional reforms are needed for it to overtake the Australian Stock Exchange (ASX).
It believes that to maximise its competitiveness in Australia, there needs to be changes in areas such as clearing and settlement.
"ASX continues to hold a monopoly in many other areas such as the clearing and settlement of equities," said Chi-X Australia CEO John Fildes. "I can foresee us approaching equilibrium in the medium term, but we'd need further reform to ensure the benefits of competition are felt across the trade cycle, in order to get above ASX."
ASX Clear and ASX Settlement operate the only licensed clearing and settlement facilities for the Australian cash equity market. To clear and settle trades executed on its trading platform, Chi-X is required to go via Trade Acceptance Services (TAS), before getting through to the Clearing House Electronic Subregister System.
Fildes has said previously that he thinks this process is unfair, because ASX does not have to go through TAS.
Chi-X Australia, which is owned by Chi-X Global, began operations on 31 October 2011. It has just ended its second year of operations, by reaching a firm-record weekly total market share of 18.39% in the Australian markets. That included a one-day record of 24.67% on 4 November.