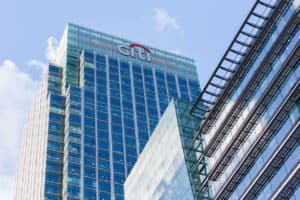 Citigroup kicked off the Q4 earnings season on Friday with the release of its latest figures. Recently-appointed chief executive officer Jane Fraser, who only joined the bank 10 months ago and has embarked on a radical revamp of the bank's priorities since her appointment, outlined the ongoing strategy in a detailed earnings call, as well as explaining the mixed bag of results.
The fourth quarter missed expectations, with net income of just $3.2 billion – a decline of 26% year-on-year, which the bank blamed on an 18% jump in expenses. Full year figures were strong however, with the bank returning nearly $12 billion in capital to its shareholders.  
"Our net income for the full year of $22 billion (double the $11 billion earned in 2020) reflects an improved credit environment," said Fraser. "We had another strong quarter in investment banking and gained share for the year in M&A."
Citigroup is making some major changes to the way it operates, including an exit from 13 consumer markets across Asia and a significant scale-back in Mexico, along with the creation of a new personal banking and wealth management division run by the chief executive officer of the global consumer bank, Anand Selva.
On the institutional side, the bank is radically shaking up its reporting structure with the introduction of a brand-new services unit. "We will begin reporting under three units: services, banking and markets," revealed Fraser. "Services will include Treasury and Trade Solutions (TTS) and security services, and this reflects just how important we believe these businesses are to Citi's future."
Security services revenues for the bank grew 5% year-over-year as fees grew 11%, driven by higher settlement volumes and higher assets under custody, although partially offset by interest rate headwinds. "These businesses are foundational for us as they have a unique position given their global footprint and full suite product offering," stressed chief financial officer Mark Mason.
The markets division had a shaky quarter by comparison, with revenues down 17% compared to the previous year. Fixed income revenues led the losses, with a year-on-year decline of 20%. "We could have had a better balanced performance in fixed income in the quarter," admitted Fraser.
Equities delivered better news, ending 2021 up 25% – although even here, Q4 results were more disappointing, with equities market revenue losing 3% year-over-year and coming in below $1 billion for the first time in four quarters. The downturn was particularly noticeable given the exceptional 40% bounce in equities revenue for the previous quarter, a loss Fraser put down to a decline in rates and spread products, which offset solid growth in FX, commodities and structured activities.
Overall however, fee growth across the board bumped up momentum, and investment banking revenues overall recorded a quarterly jump of 43%, driven by the bank's best advisory performance in a decade.
Looking ahead, Fraser revealed that the bank's restructuring strategy was now drawing to a close, with the Mexico scaleback the last major change.
"We're now focused on pulling everything together for Investor Day [2 March 2022]," she said on the call. "That's where the new reporting structure is a very important foundation.
"I'm confident that we've made the right big structural decisions."