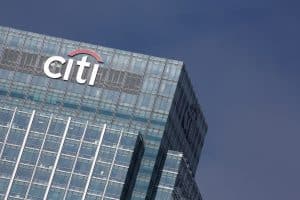 Investment bank Citi has combined its electronic and portfolio trading teams in the US as it looks to centralise its risk taking across global spread products (GSP), according to an internal memo seen by The TRADE.
Known as GSP Quantitative Trading, the new unit will merge the beta, electronic, automated trading (BEAT) business with portfolio trading, focusing on market making and risk taking in algo trading, ETF create-redeem, fixed income ETF trading and portfolio trades in spread products.
GSP Quantitative Trading will be co-headed by Peter Chalif, co-head of global BEAT trading, and Derek Hafer, global head of spread products portfolio trading. Jay Mann, co-head of GSP algo, market making and electronic trading, will lead the new division's platform sales team working with the trading team.
Vikram Prasad, global head of flow credit trading at Citi, who authored the memo, said the platform sales team will meet growing demand for electronic trading, connectivity and direct market access with strategies across portfolios, ETFs and systematic solutions.
Hafer took on his role as global head of spread products portfolio trading for the US at Citi in December after the investment bank said it had seen a rapid rise in portfolio trading. Led by Hafer, Citi expanded its portfolio trading capabilities to include spread and flow products in response to the trend.
The memo also listed several new appointments as part of the reorganisation within flow credit, portfolio trading and electronic trading. Sam Berberian was named head of corporate cash trading for North America, while Olaf Auerbach was appointed head of North America distressed trading.
Elsewhere, Davy Kim has been given an expanded role as head of North America macro trading in addition to his current position as co-head of synthetic structured credit. Abbas Zaidi has also been promoted to lead high-yield trading.