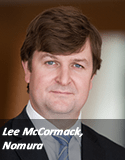 Nomura's, executive director, OTC clearing business development manager, Lee McCormack, has left the company following its decision to pull out of providing OTC client clearing services.
The firm exited the business due to "evolving and uncertain regulatory and market environment associated with OTC client clearing", following in the footsteps of a number of others in Europe such as RBS and BNY Mellon.
McCormack was responsible for building, marketing and selling Nomura's client clearing business, and was also a well-known industry spokesperson.
He joined Nomura in 2012 after almost three years in a similar role at Morgan Stanley.
Prior to that, he also held roles at UBS and LCH.Clearnet as a senior risk manager.
A spokesperson confirmed McCormack's departure.