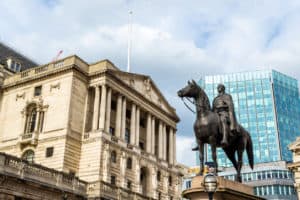 The UK's Competition and Markets Authority (CMA) has confirmed that five banks – Citi, Royal Bank of Canada, Deutsche Bank, HSBC, and Morgan Stanley – have been provisionally found to have broken competition laws.
At this stage, the CMA report has found that in the aftermath of the global financial crisis, each bank "unlawfully shared competitively sensitive information" on one or more occasions over a four-year period.
Deutsche Bank alerted the CMA to its participation in the activities under the authority's leniency policy, and Citi subsequently applied for leniency during the investigation. The CMA has confirmed that so long as both continue to cooperate and comply with the leniency conditions and assist with the investigation, Deutsche Bank will not be fined in any outcome, and in the case that Citi is fined, this will be discounted. Citi has also additionally entered into a settlement agreement with the CMA, for further discount in the event of a fine.
HSBC, Morgan Stanley and Royal Bank of Canada have not admitted to any wrongdoing thus far.
The investigation was opened in November 2018 to look into the exchange of sensitive information regarding the UK's government bonds in one-to-one online chats by the banks between 2009 and 2013.
Specifically, the conversations – which took place in Bloomberg chatrooms – related to gilts and gilt asset swaps, including details on pricing and trading strategies.
According to the findings, the exchange of information was between a "small number" of traders and concerned: the sale of gilts by the UK Debt Management Office via auctions on behalf of HM Treasury; the buying and selling of gilts and gilt asset swaps; and buy-back auctions of gilts by the Bank of England.
Discussing the significance of the banks in question limiting competition by unlawfully exchanging competitively sensitive information, Michael Grenfell, executive director of enforcement at the CMA, said: "This could have denied taxpayers, pension savers and financial institutions the benefits of full competition for these products, including the minimisation of borrowing costs."
The CMA's investigation specifically concerns Chapter I prohibition of the Competition Act, 1998. The authority has not confirmed a timeline for future rulings at this stage, and the investigation is ongoing as the CMA awaits representations from the parties in question should they so wish to make them.
If following this, the CMA concludes that any two or more of the banks did indeed engage in anti-competitive activity, an infringement decision will be published which may include fines.
Speaking in an announcement, Grenfell added: "A properly functioning, competitive bond market benefits tens of millions of taxpayers and pension savers as well as being at the heart of the UK's reputation as a global financial hub. These alleged activities are therefore very serious and warrant the detailed investigation we have undertaken."