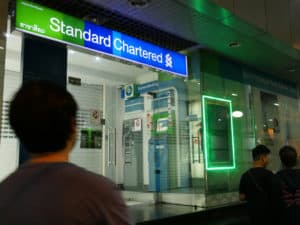 Standard Chartered has become the latest major institution to sign up to the FX post-trade technology network from Cobalt, enticed by the platform's cost saving benefits.
The investment bank will join the Cobalt infrastructure, which is based on shared ledger technology, to automate and centralise its post-trade processes.
Other major firms using the network include Citi, Sucden Financial, Saxo Bank, Deutsche Bank and XTX Markets, with Citi, Sucden Financial and now Standard Chartered signing up over the last month.
"As a global FX participant, we realise the need for market standardisation," said Gareth James, macro trading COO at Standard Chartered. "Within emerging markets, harmonising and centralising post-trade will mean greater efficiency. Cobalt's technology solution delivers increased automation, which will allow us to not only realise cost savings but gain crucial credit management efficiencies with our counterparties, which is key for our emerging markets."
Darren Coote, CEO of Cobalt, added that with the latest additions, Cobalt is diversifying the network with the full-scope of FX market participants. 
"As the network grows, real-time cost savings will be realised by all our clients, and due to the central management of post-trade our clients can start to layer additional optimisation solutions that will have a positive impact on balance sheet usage," Coote said.