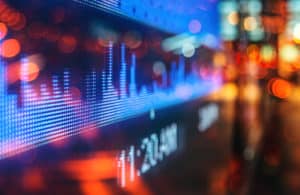 Continuous lit trading increased sharply this month as traders look for more certainty in execution during market volatility driven by the ongoing global coronavirus pandemic.
According to a study from Liquidnet on the European liquidity landscape, the structure of the market and liquidity formation has remained steady throughout the month despite a jump in overall volumes.
Lit volumes – excluding auctions – surged from around 10% of market activity in February, to more than 20% of market activity, which was further highlighted by a sharp decline in the percentage traded in lit auctions. Liquidnet said the increase in continuous lit trading was likely due to a rise in algorithmic trading, particularly VWAP (volume-weighted average price), over the course of the day.
Traders have expressed concerns about the lack of intraday liquidity and the impact on continuous trading, in part due to the rise of volumes in the closing auctions.
The amount of total volume in closing auctions is not increasing, but the percentage of total volume has increased dramatically. This has sparked concern from some senior traders, particularly those among active buy-side firms, who largely agree that trading during the day has become more difficult as a result.
At the same time, while overall dark trading volumes peaked at more than 10% of market activity in October last year and January this year, as a percentage of overall activity dark trading has declined to between 8-9% despite the overall surge in activity. Dark trading that was large in scale (LIS) has also declined from around 40% of overall volumes in 2019, to 30% in March.
"With PMs (portfolio managers) preferring to work orders in current market conditions rather than trading blocks, the risk of further regulatory change remains a significant challenge," Liquidnet said.
Europe could see some major changes to dark trading under MiFID II as European authorities are currently reviewing the rules. The European Securities and Markets Authority (ESMA) is considering removing the reference price and negotiated trade waivers, which would lead to the double volume caps being redundant. Liquidnet warned the move could have a 'profound impact' on dark trading activity.
"Current ESMA proposals to remove reference price and negotiated trade waivers could have a profound impact on the make-up of dark trading and any subsequent ability for traders to find price improvement to meet best execution obligations," Liquidnet stated.