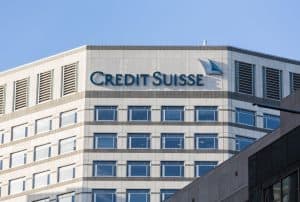 SIX Swiss Stock Exchange has listed the first five exchange traded funds (ETFs) launched by Credit Suisse Asset Management, after the firm said last month it would introduce the products to meet growing demand.
Credit Suisse has launched five ETFs with SIX, four of which are environmental, social and governance (ESG) focused, benchmarked to the MSCI USA ESG Leaders and MSCI World ESG Leaders respectively indices.
The move marks Credit Suisse's reappearance in the space, after the firm sold its ETF business to BlackRock iShares back in 2013. Credit Suisse confirmed last month it would be adding ETFs to its fund products, with the first batch to be listed with SIX, Borsa Italiana and Deutsche Börse.
"We continually analyse the market, new trends and client needs to provide appropriate solutions for our customers," Michel Degen, head of Credit Suisse Asset Management Switzerland and EMEA, said at the time. "The strategic importance of ETFs will further increase in the future as digital sales platforms gain greater significance."
Liquidity for the five ETFs is provided by Credit Suisse Europe, which joins the SIX ETF segment as a market maker, as well as Flow Traders. The latest addition of ETF's at SIX Swiss Exchange takes its total to 1,564 with 25 providers. According to the market operator, its ETF segment's trading turnover surged 24$ in 2019 compared to the year prior.
"With the new products, investors now have access to more than 100 sustainable ETFs on our platform and gain additional opportunities to diversify their portfolios," Danielle Reischuk, senior ETFs and ETPs sales manager for securities and exchanges at SIX, added.
Goldman Sachs Asset Management launched three smart beta ETFs with SIX Group in November. The ETFs aim to provide retail and institutional investors with opportunities to diversify portfolios with US, Chinese and emerging market underlying assets.