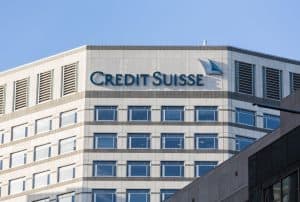 Credit Suisse has made a series of new hires across its global investment grade trading desks in New York and London.
In London, the bank has added Markus Gebhard, who rejoins from JP Morgan as a director with responsibility for running its investment grade corporates trading business.
Elsewhere, Kai-Sören Schultheis has taken the position of director in illiquid investment grade trading and joins from Deustche Bank, while Roy Madar joins Credit Suisse as vice president in investment grade trading from Citi.
Credit Suisse's fourth move in London sees Marc Sanchez Roger join from BBVA as vice president, as the banks and financials sector strategist.
In New York, Credit Suisse has also made a swathe of appointments including Andrew Galano, who joins as director in investment grade sales and joins from Morgan Stanley.
Mike Lattarulo will take the position of director in investment grade trading with a focus on front-end trading, while Sameer Shah joins from Citi and will take the role of director in investment grade trading.
Greg Chwatko will assume the role of managing director on the investment grade sector strategy team and Robert Dia also joins Credit Suisse as a director with coverage responsibility for the industrials sector.
The arrivals were announced via an internal memo, which was confirmed to The TRADE by a Credit Suisse spokesperson.
The new additions follow on from the appointments of Brian Connors and Dan Driscoll from Morgan Stanley, and Philip Hartman and Max Quinzani from Goldman Sachs last year.
"Investment Grade continues to be a strategic business for our Global Credit Products franchise, and these appointments demonstrate our commitment to strengthen the business and focus on a client-centric, ideas-driven strategy," commented David Miller, global head of credit at Credit Suisse.