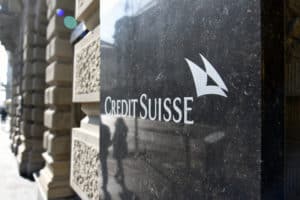 Credit Suisse has provided a trading update addressing market conditions which have caused challenges in the second quarter of 2022 – maintaining a trend of recent challenging quarters experienced by the investment bank.
"The combination of the current geopolitical situation following Russia's invasion of Ukraine, significant monetary tightening by major central banks in response to the substantial increase in inflation and the unwind of Covid-related stimulus measures have resulted in continued heightened market volatility, weak customer flows and ongoing client deleveraging, notably in the APAC region," said Credit Suisse in a statement.
Credit Suisse stated that although advisory revenues have been resilient within the investment bank and global transaction services revenues have benefited from the higher volatility, financial performance of this division have been depressed in April and May due to the continued low levels of capital markets issuance and the widening in credit spreads.
Consequently, Credit Suisse predicts that this will lead to a loss for the investment bank division as well as the wider Group in the second quarter of this year. Continued volatility in the market value of the firm's 8.6% investment in Allfunds Group is also expected to affect Credit Suisse's reported earnings.
The slump marks the third straight quarterly loss for Credit Suisse and has resulted in reduced investor confidence – leading to shares falling as much as 7.6% in Zurich trading following the warning of Q2 results.
Credit Suisse's CEO has also faced increased pressure as a result of disappointing quarters. In the first quarter, majority of major European banks saw trading revenue climb, however, Credit Suisse saw a noteworthy drop by half.
Fears exist that job losses could occur to cope with reduced profits and to reduce expenses. This follows Credit Suisse's decision to all but exit prime services following the fallout from the collapse of Archegos Capital Management, which cost the Swiss-bank $5.5 billion and forced a wholesale review of risk management across the business and which already saw job losses occur.
Namely, Vincent Vandenbroucke was appointed by Citi from Credit Suisse as its EMEA head of prime brokerage consulting, following the Swiss bank's pullback from the space.
Elsewhere, in another high-profile loss to the bank's trading desk, Basil Eggenschwyler, Credit Suisse's EMEA head of credit trading and sector strategy departed the firm at the beginning of this year to join hedge fund Brevan Howard.
Credit Suisse has stated that the second half of this year will remain one of transition, with plans to accelerate cost initiatives across the Group with the goal of maximising savings from next year onwards.