Mid-way through day three of our epic 325-kilometre cycle home from Paris to London, Nick Johnston came up alongside me and asked me what three words I would use to describe our journey. "You could put it in a news story," he said. At the time I said something along the lines of exhausting, exciting and painful (he'd caught me at a bad moment) but looking back over our ride I don't think three words are enough to describe the sheer breadth of emotion felt across those two and a half days.
Setting off from the Arc De Triomphe on Wednesday afternoon was an exhilarating way to kick off our multi-day migration back to London – particularly for those of us that had been on stage less than an hour before swapping panels for pedals. Surrounded by cars heading off in what seemed like every direction, the team got a quick group photo before setting off through the Paris streets in the peak of rush hour.
Our first 64-kilometre leg was comparatively short when compared with those that followed on Thursday and Friday, aptly designed to ease us into the journey after the whirlwind that was TradeTech. The route took us past Versailles and through some of Paris' most beautiful parks and we arrived at our fairytale-style gîte that evening slightly later than scheduled but in time for a hearty lasagne and an early night.
At dinner, discussion turned to the next day. Thursday was to be the flattest but also the longest leg of our journey, cycling 150 kilometres to Dieppe where we would make our ferry crossing to England. As a novice to the world of cycling, I figured 150 kilometres was simply three lots of 50, a distance I had cycled with ease as part of my training, and I was therefore blissfully unaware of the challenge that lay before us.
A plethora of punctures
On Thursday morning we rose early, ate breakfast and hit the road, at which point any prior blissful ignorance quickly wore off. Strong headwinds meant we were battling forwards for the first 70-kilometre stint of the day. We regrouped for lunch at a boulangerie on route before setting off to complete the next 80 kilometres, with the promise from our route organisers that the final portion of the journey included a steady descent into Dieppe along a repurposed railway line that was now dedicated to cyclists.
Despite this latter half of the journey being extremely stop-and-start thanks to "a plethora of punctures" – there's an editorial job here waiting for you if you want it Duncan – the scenery was beautiful and our spirits remained high as we cruised into Dieppe tired yet happy and ready for a carbohydrate load before the next morning's early start for the ferry.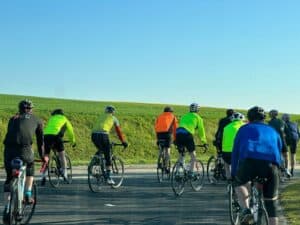 Day three for a novice cyclist was nothing short of a baptism of fire. We commenced the day with a 4:30 am start for a 6:30 ferry crossing to Newhaven where we were greeted with the traditional English welcome of cold and rain. After a brief stop in a Lidl carpark to pump up our tyres and fill up our water bottles we hit the road. Sore legs from the two days prior meant day three was a slow starter, well for me anyway. The final 111-kilometre leg of journey from Newhaven to Tower Bridge in London, including the rolling hills of Surrey and Kent, was billed as the most challenging, and this was by no means wrong. Our mental and physical resilience were tested as we climbed hills that sometimes lasted for kilometres at a time.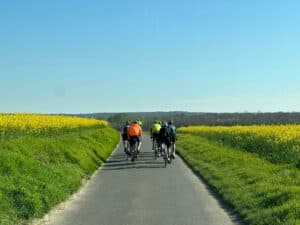 It was here that Nick – who had joined us that morning after a tussle with French customs over the delivery of his bike – asked me which three words I would use to describe our journey. At the time, covered head to toe in mud, uncomfortable in my saddle and preparing for the next climbing ordeal there were several words that came to mind and not all of them print worthy. However, alongside the exhaustion and discomfort were feelings of elation and pride every time we crested a hill and another mile passed.
I'm not ashamed to say I shed a few tears as we crossed the finish line next to Tower Bridge, and these tears were almost repeated when we turned the corner into Liverpool Street and there waiting was a gathering of BMO colleagues and friends to congratulate us and usher us inside for a shower and some well-deserved pizza and drinks.
We rode 325 kilometres in two and a half days and raised over £12,000 in total for Farms for City Children! Thank you to BMO's Mo Akanji for all the photos and support and to TraFIX's Russell Thornton and Sustainable Trading's Duncan Higgins for organising such a rewarding and exhilarating trip… but I might get the Eurostar home next year.