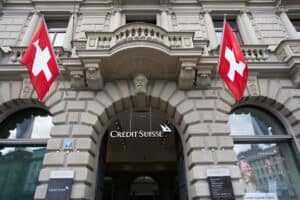 Credit Suisse has released what could be its last set of quarterly earnings, reporting net revenues of $20.1 billion in the first quarter, up 319% compared to the same period last year.
The Swiss bank also reported a net income of $13.9 billion, compared to a net loss of $307 million in Q1 2022.
The significant increase in net revenues and net income primarily reflected the write-down to zero of $16.9 billion of additional tier 1 capital notes as ordered by the Swiss Financial Market Supervisory Authority (FINMA), following news that UBS would acquire Credit Suisse. The move is expected to generate legal action from AT1 bond holders, which could see investors challenging the Swiss government, or suing FINMA and Credit Suisse.
Read more: UBS' Credit Suisse takeover: what you need to know
Despite increases in total revenues, Credit Suisse experienced declines within its investment bank, reporting a loss before taxes of $503 million compared to income before taxes of $182 million in Q1 2022.
The bank reported net revenues of $1.1 billion, down 37% compared to the same period last year, which it attributed to continued challenging market conditions.
Within its fixed income sales and trading division, Credit Suisse reported revenues of $312 million, down 5% compared to the first quarter of last year.
"We had lower revenues in our foreign exchange and credit investor products franchises, mainly due to less favourable trading conditions. These decreases were partially offset by higher revenues in global credit products, mainly driven by a significant increase in investment grade trading revenues due to heightened volatility," the bank said in a statement.
Investment banking and capital markets fees also experienced a decline, with the bank reporting fees of $316 million, down 54% compared to Q1 2022.
Elsewhere, as has been the trend amongst other banks, Credit Suisse saw declines within its equity sales and trading division, reporting revenues of $472 million, down 36% compared to Q1 2022.
Read more: Goldman Sachs, Bank of America and Morgan Stanley latest to report decline in equities
"Equity derivatives revenues decreased significantly compared to a strong 1Q22 mainly reflecting lower results in flow derivatives and structured equity derivatives, despite significant gains on the buyback activity principally in our structured notes portfolio," added the bank.