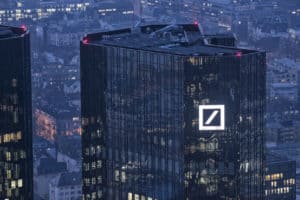 Deutsche Bank has made a strong start in executing its transformation strategy and has raised its investment banking revenue expectations, according to the bank's chief executive.  
In a note to employees ahead of Deutsche Bank's first investor day in several years, Christian Sewing claimed the institution is in line with implementing its business strategy, and is even ahead in some areas.
For investment banking, which includes trading, Sewing said the division's new setup has been established quickly and its performance during this time has been better than expected, with revenues up so far in the fourth quarter due to fixed income and currencies sales and trading. As a result, Deutsche Bank has adjusted its revenue expectations with slight increases over the next few years.
"In the past few months we have made significant progress on every dimension of our strategic transformation. We are in line with our plan and even ahead in several areas," Sewing said in a separate statement on the progress issued by Deutsche Bank. "Making a strong start to our unprecedented transformation was all important. Clients, regulators and our own people have all voiced their firm support for the path we have embarked upon."
Deutsche Bank confirmed in July that it would implement the biggest business overhaul the bank has seen in a decade, with plans including a targeted reduction in adjusted costs of around €6 billion by 2022 and the loss of approximately 18,000 full-time positions. The institution also agreed to transition its prime brokerage and electronic equities franchises to BNP Paribas following years of doubt on sustainability of the businesses.
BNP Paribas recently gained regulatory approval for the deal with Deutsche Bank, which both banks said marked an important milestone in its close collaboration efforts. Sewing added that Deutsche Bank's exit from equities trading is "well advanced", and it is "advancing faster" than originally expected with the sale of legacy assets from other parts of the business.
"This strong start to our transformation was extremely important," Sewing said. "We have been able to demonstrate that we are able to not only meet but even outperform our plans…. We have achieved this despite additional headwinds in the second half of the year. The economic outlook has become more difficult, although there have been more positive signals recently, and in the Eurozone interest rates are even lower than expected this summer. This inevitably has implications for us."