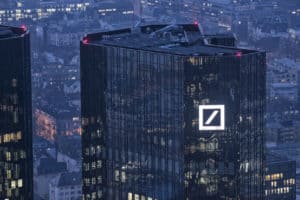 Deutsche Bank has said its workforce is the lowest it has been in almost a decade, as the investment bank implements one of its most radical restructures following years of declining profits.
The German institution said that in the third quarter this year, its full-time headcount decreased to 89,958, down by around 4,750 from the same period last year. The reduction takes Deutsche Bank's workforce below 90,000 for the first time since its acquisition of Postbank in 2010.
As part of the restructure, Deutsche Bank has targeted reduction in adjusted costs of around €6 billion by 2022, including the loss of approximately 18,000 full-time positions. Deutsche Bank is aiming to slash its full-time workforce to 74,000 over the next few years. Shortly after outlining its restructure plans, Deutsche Bank confirmed that more than 900 positions had been cut in its cash equities business.
The investment bank posted a net loss of €832 million in the third quarter, largely due to costs associated with its restructuring efforts. Noninterest expenses were €5.8 billion, up 4% year-on-year, including €234 million of restructuring and severance and €186 million of transformation charges related to software impairments.
"In July, we spoke the about our strategy to radically transform our bank by 2022. Today, we can tell you, we are on track," Christian Sewing, CEO of Deutsche Bank, told analysts on its quarterly earnings call. "This management team is absolutely focused on execution. We are delivering on our near-term objectives, which sets us up to deliver on our long-term goals."
Deutsche Bank is also in the process of transferring around €160 billion of prime brokerage balances, and its electronic equities trading business to French investment bank BNP Paribas. At the end of the third quarter, leverage exposure related to this transfer was around €40 billion, with around half of this to be reduced soon after the closing of the agreement, and the remaining client balances due to be transitioned over time. The transaction with BNP Paribas is still on track to close in the fourth quarter this year. 
"Of course, these quarterly results are just an interim assessment, but they are encouraging," Sewing concluded in a note to staff about its third quarter results. "In spite of the difficult geopolitical and macroeconomic climate we have consolidated our position in a number of key businesses."