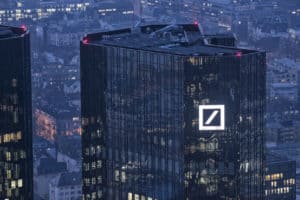 Deutsche Bank has confirmed there were over 900 jobs losses in its cash equities business as part of its business transformation and restructuring plans.
Within its report of its Q2/H1 activities, the German banking group confirmed that over 900 positions within its cash equities business had either been "given notice or informed their role will be eliminated."
Announcing the dramatic overhaul of its struggling investment banking division in early July, Deutsche Bank detailed that it was targeting the loss of approximately 18,000 jobs and a reduction in adjusted costs of around €6 billion by 2022.
The institution has already begun the process of exiting its positions in cash equities and stated that its planned sale of its prime brokerage and electronic equities businesses to BNP Paribas is "on track".
The bank recorded equities revenues of €360 million during Q2, a year-on-year decrease of 32%, which was attributed to the announcement of its "strategic reshaping" announced in Q2 last year and the "market's anticipation of a strategic downsizing of the bank's Equities franchise."
Deutsche Bank recorded a net loss of $3.1 billion for Q2 2019 as a direct result of costs incurred by its restructuring plan, including the "impact of lowered outlook on business plans", which were detailed as €3.4 billion.
The group's asset management division recorded revenues of €593 million for the three months ending 30 June 2019, up from €561 in the same period last year.
"We have already taken significant steps to implement our strategy to transform Deutsche Bank. These are reflected in our results," commented Deutsche Bank's chief executive, Christian Sewing.
"A substantial part of our restructuring costs is already digested in the second quarter. Excluding transformation charges the bank would be profitable and in our more stable businesses revenues were flat or growing. This, combined with our solid capital and liquidity position, gives us a firm foundation for growth."