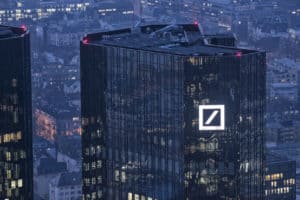 Deutsche Bank will pay $10 million to settle two enforcement actions from the US derivatives watchdog for allegedly engaging in spoofing and violating swap data reporting requirements.
The US Commodity Futures Trading Commission (CFTC) confirmed that the German investment bank had resolved federal court charges stemming from alleged spoofing activity which took place in 2013, and an outage on its swap reporting platform that lasted for five days in 2016.  
According to the regulatory filing, two Tokyo-based Deutsche Bank traders engaged in numerous instances of spoofing– whereby traders bid and offer with the intent to cancel before execution – in treasury futures and Eurodollar futures contracts on CME from January 2013 until December the same year. Deutsche Bank will pay a $1,250,000 civil penalty to settle the charges.
In the case of the swap reporting violations, the CFTC found that Deutsche Bank's swap reporting platform suffered an outage that began in April 2017. The issue meant that the bank could not report any swap data for multiple asset classes for five days, and efforts to fix the problem led to further reporting violations, according to the CFTC. Deutsche Bank has agreed to pay a $9 million penalty to settle charges related to the technical outage.  
"This case reaffirms the importance of proper reporting among registered swap dealers," said CFTC director of enforcement James McDonald. "The Commission has been charged with monitoring and addressing systemic risks in our swaps markets. We can't fulfil these obligations if we don't have accurate reporting of the swaps dealing activity of our registrants."
The CFTC added that in terms of the swap data reporting errors, Deutsche Bank has since appointed a monitor to ensure compliance with reporting obligations, while numerous other remediation efforts were implemented to solve the issue, including increased supervision and a disaster recovery plan.