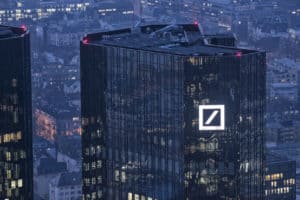 Deutsche Bank's new global head of securities services will be located in New York after it was announced that Fiona Gallagher will leave in October to join Wells Fargo after just over a year in the role.
According to a memo seen by The TRADE's sister publication Global Custodian, Michaela Ludbrook will assume leadership of Deutsche Bank's global securities services business within Global Transaction Banking (GTB) with immediate effect.
The landmark move, which follows Deutsche Bank's decision to transition its prime brokerage to BNP Paribas amid a major business restructure, sends the role out of Europe in a shift that will come as a surprise to the securities services industry. Ludbrook has overseen the GTB franchise in the Americas since October last year.
She joined Deutsche Bank in 2014 after seven years at Goldman Sachs, and had previously spent more than a decade at JP Morgan working in locations across Asia, Europe and the US. She will report to Stefan Hoops who was promoted to the head of GTB last week.
"I would like to extend special thanks to Fiona Gallagher who has led Securities Services since 2018 and also served as the chief country officer for Ireland," said Hoops. "Fiona has decided to leave Deutsche Bank to take up a new opportunity externally. Her replacement as the CCO (chief country officer) for Ireland will be announced in due course. I am confident that Michaela's leadership will help us continue to build on this strength and grow further in this important business."
Gallagher, who was also head of global transaction banking (GTB) for Ireland, will become CEO for Wells Fargo Bank International Unlimited Company (WFBI), an indirect subsidiary of Wells Fargo, on 1 October. She will continue to be based in Dublin, reporting to John Langley, president of Wells Fargo's EMEA business.
Gallagher took on the role in April last year following Satvinder Singh's exit in December 2017 who led the business for over six years. As a 15-year Deutsche Bank veteran, her dual role increased responsibilities for custody, clearing and settlement, and fund administration across 30 markets globally. She was also responsible for its 750 staff in Ireland, including Deutsche Bank's data and analytics centre of excellence.
"We are delighted to welcome Fiona to Wells Fargo," said Langley. "As a bank, we are committed to helping our customers reach their financial goals, and with Fiona's leadership skills, alongside the support of our regional banking team, we are well positioned to grow our European Bank in line with our regional strategic objectives."