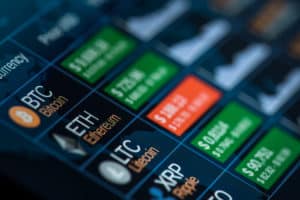 US derivatives exchange operator CME Group has started trading futures linked to cryptocurrency Ethereum in the latest signal of greater institutional engagement with the digital asset space.
The CME-listed contracts are cash settled and based on the CME CF Ether-dollar reference rate, which acts as a daily reference rate of the US dollar price of Ether.
"As institutional demand for transparent, exchange-listed crypto derivatives continues to increase, we are pleased to launch our new Ether futures contract," said group global head of equity index and alternative investment products at CME, Tim McCourt.
"The addition of Ether, along with our liquid Bitcoin futures and options, will create new opportunities for a broad array of clients, whether they are looking to hedge ether positions in the spot market or gain exposure to this cryptocurrency on a regulated derivatives marketplace."
 The launch of Ether futures at CME comes more than three years after the exchange operator rolled out Bitcoin futures. In January last year, CME launched Bitcoin options after its futures reached average daily volume of more than 6,500 contracts in 2019. In 2020, CME statistics revealed that average daily volume of its Bitcoin futures contracts increased to 8,560 contracts per day.
McCourt said as CME confirmed plans to offer Bitcoin options that institutional clients had increasingly expressed interest in options as a means to hedge and trade cryptocurrency markets.
"Just as Bitcoin futures paved the way for institutions to enter the crypto market in 2017, so CME Ether futures will allow CME Group clients to gain even greater exposure to the asset class," Sui Chang, CEO of CF Benchmarks, commented on the Ether futures launch.