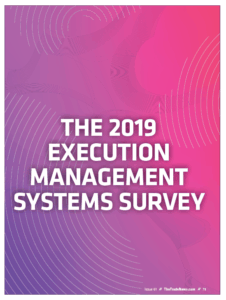 In the 2018 edition of The TRADE's Execution Manage­ment Systems (EMS) survey, com­pliance with the recent MiFID II rules was fast becoming a thing of the past, as providers and users alike turned their attention back towards the real business at hand: improving the quality of execu­tion.
Research conducted by the consultancy Greenwich Associ­ates and published in March this year found that the buy-side had spent around $1.4 billion on the deployment of EMS and order management systems in 2018, with the most recognisable names in the space leading the way in terms of popularity.
Given the amount the asset management community is now spending on these systems, the results of this year's survey will be pleasing to providers, as scores continue to rise as the industry moves further away from the compliance-focused days of two years ago when MiFID II came into play. However, there are signs that some providers may be resting on their laurels, falling behind the high standards their peers have set in this year's survey.
Scores re­corded over the past three years across 13 functional EMS categories under review by buy-side respondents. Overall, scores con­tinued to rise in this year's survey, with all categories under scrutiny scoring above 5.00 (representing a 'good', or 'default', score), while two categories exceeded the 6.00 mark. The overall survey average score also rose in this year's edi­tion to 5.78, a 0.22 increase on last year, and the highest score for at least the past seven years.
The highest-scoring areas of performance in this year's survey were the reliability and availabili­ty, and FIX capabilities categories, which scored 6.18 and 6.12 respec­tively, while four other categories were just underneath the 6.0 mark – latency (5.93), breadth of broker algorithms (5.96), client service personnel (5.84) and breadth of direct connections to venues (5.85).
One category that has always been a critical element for EMS users when reviewing the providers and systems is product development. This has been an area of under performance for EMS providers over the past five years and although there have been signals of progress since 2017, it was again the lowest scoring category in this year's results, with 5.39.
While this still represents a 'good' score, it is far below the survey-wide average of 5.78 and has actually brought that figure down; without the product development category, this year's survey average would stand at 5.82. Clearly then the buy-side expects more from their EMS providers and will be hoping for innovation in this space as the other areas of functionality continue to improve; those providers that cannot demonstrate this may find their clients looking elsewhere.
The ongoing consolidation of EMS providers among the buy-side continues apace, as asset managers persist in slimming down the number of relationships they hold with these providers. Just under 63% of buy-side respondents said this year that they are using a single EMS provider, a far cry from the results of 2017, where just over one-third of respondents were using one provider.
It would now be reasonable to assume the 2017 result was an anomaly, likely driven by the introduction of MiFID II, when asset managers were sampling their options in the space before making a definitive decision on which EMS provider they would use going forward.
When it comes to evaluating EMS providers, eight firms garnered enough responses from buy-side users to warrant a profile, with some big industry hitters — such as REDI and SS&C — noticeably absent from the list due to insufficient levels of responses. Most interestingly in the profiled providers was the contrasting tales of performance for two EMS providers that were acquired by in big money deals, Charles River and ITG, now part of State Street and Virtu Financial respectively.
The overall picture from this year's survey results show one of positive improvements as the industry looks to move further away from the compliance-led days of 2017 and towards greater execution quality.
The 2019 Execution Management Systems survey can be read in full here.