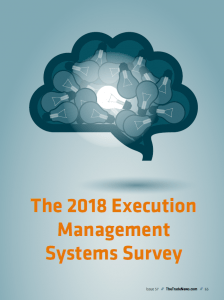 Buy-side firms are now looking beyond the compliance requirements of MiFID II and resuming their focus on execution quality, according to the results of The TRADE's Execution Management Systems (EMS) Survey 2018.
The introduction of new rules for firms to demonstrate best execution for all transactions was a major game-changer for buy-side traders, who must now be more aware of their regulatory obligations at every step of the trade process, especially when it concerns execution. However, traders will invariably act on instinct and will want their performance to be judged on more than its compliance merits.
The 2018 edition of the EMS Survey was conducted around six months into the MiFID II regime and the compliance element will have played a large part in how respondents have rated their EMS providers as enhancements will have come into effect.
With providers rated across 13 separate categories of EMS performance and functionality, the overall score for provider performance this year was 5.56, which, the highest level at any time during the last five years and a 0.08 improvement on last year.
The highest-scoring category this year was for reliability and availability, always one of the keystones of a successful EMS, at 5.91, although this has been a consistent level of scoring over the past five years.
The product development category, which suffered a dip in score in the 2017 survey, also returned to a more respectable score, although it was still the lowest-scoring aspect of service in this year's survey. Clearly, compliance mandates have distracted vendors from innovating their front-office products in execution terms, although it would be reasonable to expect them to turn their attention back to this area now that MiFID II is firmly bedded in.
When it comes to the most important features of an EMS, consistency is the name of the game, with the majority of features considered by respondents maintaining similar numbers to those recorded in last year's survey.
Respondents were asked to cite four of their most important features relating to EMS functionality. The most noticeable movement was a 10.2% decrease in respondents citing connectivity with internal systems as one of the most important features, perhaps due to the increasing sophistication of technology interoperability, or because systems have been in place for long enough to have truly bedded in to the technology infrastructure.
One of the most interesting findings of this year's survey related to the number of EMS providers respondents use. There has been an evident shift over the last 12 months for buy-side firms to consolidate the number of providers they use, with over half of respondents having now selected an exclusive EMS provider of choice, while just under one-third of respondents indicated they are using two providers for EMS.
The trend shown in last year's survey for multiple providers has been reversed and this may have been a case where buy-side firms were evaluating their options ahead of the MiFID II go-live date, particularly among those firms that were using three to four providers in recent years.
Overall, the picture portrayed by the 2018 EMS Survey is that of a movement back towards execution focus that goes beyond compliance. MiFID II has certainly made its mark on the front-office, and will continue to do so, but with vendors having adjusted their systems accordingly, traders will want to get back to focusing on what really defines their role going forward: quality execution.
The 2018 Execution Management Systems survey can be read in full here.