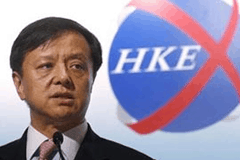 Hong Kong Exchanges and Clearing (HKEx) has established a Mainland Division to support its increasing activities in China.
The new division is comprised of HKEx's mainland development team in Hong Kong, its representative office in Beijing and related offices in Shanghai and Guangzhou. The division "reflects the growing importance of mainland connectivity to its business," HKEx said.
The new division will be jointly headed by Mao Zhirong, who was the leader of the mainland development team, and Li Gang, who has been a senior adviser since joining HKEx in March 2013. Mao and Li will report to the chief executive.
Mao joined HKEx from the Shenzen Shenzhen Stock Exchange in 2013, and he had a significant role in the implementation of the Shanghai-Hong Kong Stock Connect programme (Stock Connect). Li has more than 20 years' futures industry experience and held senior management roles at several mainland futures firms before founding Shanghai Billionton Metal in 2004 and serving as its chief executive officer until 2012.
HKEx has also hired Dr Ba Shusong as chief China economist and part of the Mainland Division. Dr Ba is former deputy director general of the Financial Research Institute of the State Council's Development Research Centre. He also has been the chief economist of the China Banking Association, a member of Hong Kong's Economic Development Commission and a senior visiting scholar at Columbia Business School in the US. Dr Ba will also report to HKEx's chief executive.
"These changes reflect the importance of our China business following the launch of Stock Connect and our aim to pursue more connectivity programmes with Mainland exchanges," says Charles Li, HKEx chief executive.
Meanwhile, HKEx has also appointed Roger Lee to the new post of deputy head of Global Markets, Asia. HKEx has also hired Kevin Ridout as head of business development, a new position in the Global Markets Division. He will be responsible for the division's business development and marketing teams. Rideout comes to HKEx from Citigroup, where he served most recently as head of wholesale execution services, Asia, and chief spokesman on the implementation of Stock Connect.