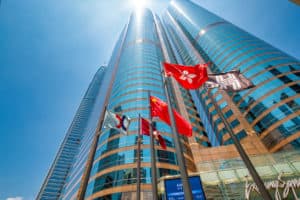 Hong Kong Exchanges & Clearing (HKEX) has gained approval to provide client clearing services to banks in Japan via its central counterparty (CCP) subsidiary, OTC Clearing Hong Kong (OTC Clear).
The Financial Services Agency (FSA) of Japan provided HKEX with the license to become a 'foreign financial instruments clearing organisation', allowing OTC Clear to offer the post-trade services to Japanese banks.
In a statement, HKEX said that the development opens up a new region of opportunity for the OTC derivatives clearing and settlement services provider. The exchange operator added that it hopes to address increased demand from Japanese banks, particularly in clearing of cross-currency swaps.
"Japanese institutions play an important role in the OTC derivatives market, and this addition demonstrates our commitment to expand our fixed-income and currency business offering in the region and internationally," said Calvin Tai, co-president and chief operating officer at HKEX. "This great milestone reflects further recognition of OTC Clear by international regulators."
The CCP-subsidiary of HKEX currently operates in the US, the European Union and Australia. It was established in 2013 saw record growth in 2019, with total clearing volumes up more than 60% to $196 billion. At the same time, cross currency swaps clearing volume reached a record $66 billion over the course of the year.
Alongside the license for OTC Clear, HKEX confirmed that Barclays Bank has become its latest clearing member, and sixth European clearing member.
"OTC Clear has been a significant industry development with its well-established network of members," Kelvin Sze, head of macro trading at Barclays, commented. "As one of the founding shareholders, we are looking forward to facilitating greater access for our counterparties in the region with this additional clearing channel to meet their offshore renminbi needs."