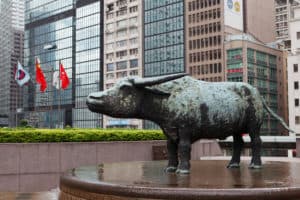 The morning trading session for derivatives and securities at exchange operator Hong Kong Exchanges and Clearing (HKEX) was delayed on Monday following severe rainstorm warnings in Hong Kong.
HKEX confirmed via a statement at the beginning of the trading day that the market open, including Stock Connect trading, had been delayed due to the weather conditions, before cancelling the session at 9.00am local time. 
The exchange said the session will remain cancelled so long as the 'black rainstorm warning', the most serious of the city's warning signals, remained in place with the potential to also cancel the afternoon's trading as well.
HKEX added that if the warning was cancelled before midday then major products would begin trading again in the afternoon on the first half hour at least two hours after the cancellation of the warning. Trading later resumed at 1.30pm local time following the cancellation, the exchange confirmed in a separate statement. 
Unlike this deliberate shut down of trading in the face of extreme weather conditions, there have been several other venue outages across exchanges in 2020 and 2021 so far. 
Major technical blackouts at Euronext, the Tokyo Stock Exchange (TSE), and the Australian Securities Exchange (ASX) all sparked a warning from the markets regulator in Europe over venues' reliance on third-party data and software providers.
Extreme weather conditions in HKEX's jurisdiction like the ones seen today are however common and unavoidable leading the exchange to have specific severe weather arrangements clauses in place for events such as this.