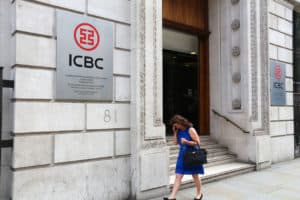 The Industrial and Commercial Bank of China (ICBC) has become the latest major institution to join BidFX as an emerging markets liquidity provider.
ICBC Standard Bank, based in London and specialised in global markets, will provide liquidity through the BidFX execution management system (EMS), which provides institutional FX clients with trading and workflow management services.
BidFX head of sales, Roger Lee, commented that as the latest BIS (Bank for International Settlements) survey on FX indicates, emerging market currencies are gaining markets share, reaching more than 25% of overall global turnover, meaning it is increasingly important to facilitate emerging market liquidity electronically.
"It has become increasingly evident that electronic provision of emerging market liquidity, both deliverable and non-deliverable (NDF), has become a must," he said. "With that in mind, having the addition of a 'frontiers pairs' FX specialist such as ICBC Standard will be valued by the BidFX client base."
ICBC is the latest to join BidFX EMS as a liquidity provider following other institutions such as Scandinavian bank SEB, which joined last month as a counterparty to provider bespoke liquidity through streaming rates and request for quote.  
News of SEB's onboarding also followed BidFX's recent upgrade to its mobile trading app for institutional clients. Users can manage and trade spot FX, forward and NDF positions at anytime and anywhere in the world on the app, with trading functionality in real-time via a secure framework.
"BidFX is a natural partner in the space given its client base. Its strategy fits well with our regional focus on Africa & Frontier Asia markets, in which we have a substantial network due to our unique shareholding structure. ICBC Standard Bank is able to offer competitive and complementary products where most major banks are not active," added Simon Goldberg, director of corporate and banks sales at ICBC Standard Bank.