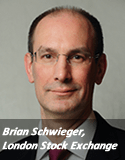 The London Stock Exchange (LSE) has confirmed it will launch an intraday auction in second half of 2015, in order to give brokers time to adapt their algos and other trading tools.
Following a March consultation, the results of which are due to be published in early November, the LSE has opted to introduce the new auction, proposed to take place at 2pm each day, but will be providing market participants with plenty of time to get ready.
In its initial consultation paper, the LSE announced that the introduction of a new auction, in addition to its existing opening and closing auctions, would help to concentrate liquidity facilitate block trading while also offering greater certainty than dark pools.
Though full details of the new auction will be released next month, LSE said it is providing a long lead-in time to help its members adapt to the new change, which will have significant repercussions for the sell-side.
Existing trading algorithms are designed to take into consideration the additional liquidity and larger trade sizes seen during opening and closing auctions and adding an intraday auction will require significant revisions to the way they work.
The LSE previously told theTRADEnews.com that there was strong buy-side support for the change.
"When I joined the LSE in September [2013], we began touring both the buy- and sell-side to discuss a number of ideas we had to extend the range of trading tools at their disposal and one of the things many buy-siders wanted to see was an auction in the middle of the day," said Brian Schwieger, head of equities at LSE.
However, he noted the sell-side was more cautious due to the costs incurred from updating their systems to cope with a new auction, but have welcomed the proposals due to strong client demand for larger trades.
The existing closing auction sees an average trade size of £30,000 compared to just £6,000 during continuous trading.
Numerous brokers have also been examining ways to increase their average trade size in their dark pools in preparation for the introduction of MiFID II, which will cap dark trading.
Though the LSE is not affected by the change, it is looking to improve trading conditions for institutional investors, who prefer to trade in size. Its parent company, the London Stock Exchange Group, has also recently implemented a new service called Block Discovery to its Turquoise multilateral trading facility, in order to help investors trade larger blocks of shares by using conditional orders.