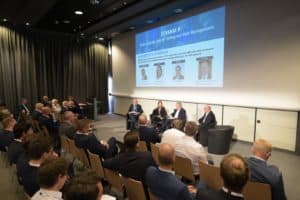 The head of trading at Invesco says outsourcing the asset manager's equities trading desk is out of the question, claiming "I don't think anybody can do it better than we could".
During an Oxford-style debate on outsourcing execution services at TradeTech Europe, David Miller lauded Invesco's in-house capabilities and systems when asked outright if the company would ever consider the concept.
"I would say some of the trades we have are best of breed anyway," said Miller. "I don't think anybody can do it better than we could.
"We've got the experience, the technological back-up as well, we've got the systems and the support, so, no."
The debate was moderated by Glenn Poulter, head of business development, global markets at Northern Trust Capital Markets, the firm which launched an outsourcing trading service for asset owners and asset managers six months ago. The move made it the first custodian to take on buy-side trading functions.
Miller's stance showed how some larger asset managers are wedded to in-house execution, despite the widely touted benefits of outsourcing, such as cost and risk reductions, along with leverage of technology and platforms.
For an asset manager with the size and scale of Invesco however, its own capabilities and systems mean it is less likely to seek out outsourcing opportunities for equities execution.
Miller said it's "possible that FX could be" outsourced but was firm on his stance on equities.
Speaking from the perspective of an asset manager who has outsourced its execution, Karen Zachary, chief operating officer at CRUX Asset Management, described the benefits of the decision, including the aforementioned cost and risk reduction, access to markets and efficiencies during the introduction of MiFID II.
"MiFID II impacted us pretty significantly, having outsourced all the trade execution there was support through all that, but the cost of research, external reporting and everything that needs to be controlled, cost has been pretty substantial.
Zachary added that it did take a while to get fund managers used to not having a trader sitting beside them. "There is a line between us and the external trading activity and that's a line that you can't cross," she explained.
Taking a neutral perspective on the debate, Greg Faragher-Thomas, director at Alpha Financial Markets, believes that the new regulatory environment will force even the largest of firms to at least consider outsourcing.
"MiFID and regulations has forced firms to look at what the objective is of the end client – a passive product, an active product, multi-asset products, solutions-based product – you really have to hold yourself accountable to that full lifecycle," he explained.
"That's where we are seeing, even the larger firms, looking at the entire value chain from fund manager, order generation all the way through to settlement as to the full costs around the process and dealing is no exception to that."
Faragher-Thomas described the decision to outsource or not as an 'emotional' one. "If you remove the emotion you can look at how you can measure the value chain. People comfortable with outsourcing, back-, middle-office and custody. You start to see what's valuable."
Research from consultancy Opimas in February this year suggested that front-office outsourcing is expected to surge over the next couple of years, as asset managers struggle to keep on top of regulatory and cost pressures according to new research.
The study predicted that by 2020, around 20% of investment managers with assets under management greater than $50 billion will outsource at least some portion of their trading desks.