Global investment banking fees grew 22% in 2021 to reach $159.4 billion, their highest since records began back in 2000.   
The figures, from Refinitiv's latest Global Investment Banking Review, illustrate one of the best years ever for the investment banking business, despite Covid COVID challenges. In Q4 alone fees totalled $39.4 billion, well on par with the previous quarter and marking a solid trajectory of gains. 
"The Americas contributed 53% of all fees generated globally with $84.7 billion, a 26% uptick compared to 2020 levels and the highest percentage since 2013," revealed Matt Toole, director of deals intelligence at Refinitiv.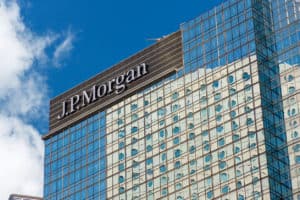 "Imputed fees in the EMEA region increased 24% to $35.4 billion during full year 2021, driven by year-over-year gains in the UK and France." 
Driven by a 10% increase in North Asia, total investment banking fees in Asia Pacific and Japan also jumped 12% to hit $39.3 billion.  
Equity market underwriting fees grew 25% to reach a record $40 billion, powered by record IPO issuance, while M&A fees jumped by 46% to hit $48.2 billion, their highest ever. Syndicated lending activity also reached a record $26.7 billion, a 26% increase compared to a year ago, although debt underwriting fees remained flat.  
Notably, it was the financial sector powering performance. "Global financials-related activity led all other sectors with $50.9 billion, up 33% compared to a year ago and accounting for 32% of all fees globally," confirmed Refinitiv. The Technology sector saw the highest growth, however, with a 45% fee jump to $16.7 billion.  
JP Morgan retained the top spot in 2021 with $12.9 billion in total fees over the full year, grabbing an impressive 8.1% share, while Goldman Sachs came in second with an estimated $11.5 billion or a 7.2% global share. Morgan Stanley took third place, winning $9.1 billion in fees over the year (5.7%).