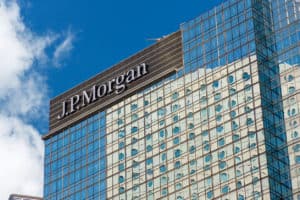 JP Morgan will become the first participant to leverage a newly integrated shared ledger collateral workflow following a partnership with post-trade technology provider Baton Systems and LCH.
The clearinghouse and Baton Systems have teamed up in a bid to automate end-to-end collateral workflow for derivatives trading, using Baton's shared permission ledger platform.
Baton's shared permission ledger integrates with existing collateral and cash systems of external providers for real-time visibility and faster movement of assets by giving firms access to consolidated intra-day information in one location.
It aims to create better visibility of margin requirements and of asset movements at external custody banks and central counterparties (CCPs), as well as providing a standardised process for pledging and recalling collateral. 
Baton and LCH confirmed that JP Morgan will be the first trading derivatives participant to manage its collateral workflow using the newly integrated Baton platform at LCH.
"Baton's integration with LCH is a significant milestone in our aim to have a comprehensive global coverage of CCPs on the platform," said Anthony Fraser, head of global clearing operations and cost and commission services at JP Morgan.  "This will bring further efficiency in our collateral management process and will provide greater real-time visibility of our margin and collateral holdings."
The integration follows a series of senior new hires at Baton Systems in the last few months including former Credit Suisse FX expert, Aaron Ayusa, who was appointed director of client success, followed quickly by the appointment of former CFTC chairman, Chris Giancarlo as a senior advisor.
"With additional CCP connectivity, we are streamlining the collateral workflow process for market participants and enabling greater efficiency while also reducing costs typically associated with legacy systems," added Tucker Dona, head of business development and client success at Baton Systems.
The integration comes as the market is paying greater attention to the way assets are mobilised. In January, start-up collateral mobility platform, HQLA, secured €14.4 million in Series B funding round from BNY Mellon, Goldman Sachs, BNP Paribas Securities Services, and Citi.