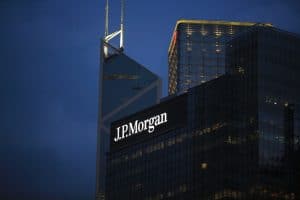 JP Morgan boss Jamie Dimon has listed exchange-traded funds (ETFs) and passive index funds among the risks the institution is currently most worried about.
In a letter to shareholders, the US investment bank's chief executive officer highlighted that ETFs and passive index funds manage more money than ever before and questioned the result of those funds going bankrupt.
"Far more money than before (about $9 trillion of assets, which represents about 30% of total mutual fund long-term assets) is managed passively in index funds or ETFs (both of which are very easy to get out of)," Dimon wrote.  
"Some of these funds provide far more liquidity to the customer than the underlying assets in the fund, and it is reasonable to worry about what would happen if these funds went into large liquidation."
Also on his list of concerns was market making, which Dimon says is dramatically smaller than in the past, where the aggregate primary dealer positions of bonds averaged $530 billion in 2007, compared to an average of $179 billion today.
"While in the past that total may have been too high, virtually every asset manager says today it is much harder to buy and sell securities, particularly the less liquid securities," he said.
Dimon also urged banks and regulators to be more "forward looking and less backward looking", particularly when examining risks across the financial system, and warned not doing so could create further risks and a new financial crisis.

"The financial system is far more safe and sound than in the past. But in spite of all the regulations put in place, I worry about whether we have properly prepared for the next crisis," he said.  
Although Dimon reiterated that the current and much stricter regulatory environment could be simplified, and more modest regulatory reform could potentially improve the functioning of markets and economic growth.