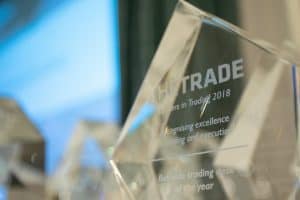 The TRADE is pleased to announce the shortlist for this year's Buy-Side awards. The winners in each category will be announced at the Leaders in Trading 2019 ceremony at London's Savoy Hotel on 21 November. 
Voting for this year's nominees is now open to the industry and will close on 1 November. Last year's voting process received nearly 1,000 submissions and this year we hope to break that target.  A judging panel composed of The TRADE editorial team, the London Stock Exchange and the Investment Association, will review the submissions and approve the winners in each category. The coveted Buy-side lifetime achievement award will also be announced on the night.
Shortlists for the Editor's Choice and Algorithmic Trading & EMS awards have already been published.
Visit our event page here for more information, to book your place and to submit nominations for this year's Rising Stars Awards, which will run until 7 October, with winners announced on 21 October.
Trader of the year (long-only)
Jennifer Blanchette – MFS Investment Management
Cathy Gibson – Royal London Asset Management
Job Kooij – APG Asset Management
Simon Steward – Capital Group
Ed Wicks – Legal & General Investment Management
Trader of the year (hedge fund)
Jane Buchan – Martlet Asset Management
Trevor Dobson – Marshall Wace
Rebecca Pacholder – Snowcat Capital
Richard Pearson – Eleva Capital
James Way – GSA
Trading desk of the year
Aberdeen Standard (Derek McCole)
BlackRock (Paul Battams)
Legal & General Investment Management (Ed Wicks)
JP Morgan Asset Management (Neil Joseph)
T. Rowe Price (Jeremy Ellis)
Multi-asset trading desk of the year
Allianz Global Investors (Eric Boess)
Lombard Odier
SEB (Andreas Wollheim)
Unigestion Asset Management (Stéphane Marie-Françoise)
Union Investment (Christoph Hock)
Mid-cap trading desk of the year
Hermes Investment Management (Dan Nicholls)
Invesco (Gordon Wood)
Julius Baer (Urs Matsch)
M&G (Dermot Dunphy)
Royal London Asset Management (Chris Hughes)
Emerging markets desk of the year
Barings (Simon Lashmar)
Comgest (Joe Collery)
Franklin Templeton (Barney Quinn)
JP Morgan Asset Management (James Stothard)
T. Rowe Price (Nicholas Wilkes)