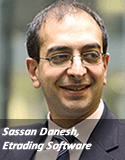 Introducing new rules requiring derivatives participants to apply International Securities Identification Numbers (ISINs) to their OTC trades is 'impossible', according to an industry expert.
The new rules released on 28 September by European regulators state that equities, bonds and derivatives trades will have to be reported with an ISIN, a unique trade identifier. 
For equities, bonds and listed derivatives, this is perfectly conceivable, however for non-standardised OTC derivatives this will be far more difficult, according to Sassan Danesh, managing partner at Etrading Software. 
"If you trade a vanilla interest rate swap, it will be fine, as the MTF would supply the reference data to ESMA or a national authority. However, for non-standardised OTC swaps where participants change something, this creates problems," he said. "There is currently no industry consensus on the definition of fungibility of the products, which is a pre-requisite for the determination of uniqueness, which in turn is a pre-condition for the issuance of ISINs."
The customisation of swaps causes one of the major issues, meaning some of the European regulatory requirements for intra-day publication and reporting using ISINs will be extremely challenging. 
"The industry will need to debate the pros/cons of pre-allocating ISINs in advance versus real-time creation of such ISINs – both of which have major logistical challenges," adds Danesh.
Additionally there are other challenges with an interest rate swap, for example. Firstly, if the instrument identifier changed every day because trading the instrument today versus tomorrow will result in different cashflows for the instrument. Secondly, if the instrument identifier was to change based on where it is cleared, and finally if the identifier change if a different holiday calendar is used, because for example a large US fund manager wants to use the US holiday calendar to trade a GBP IRS?
Etrading Software developed a new industry initiative for the International Swaps and Derivatives Association aimed at developing an open-source standard derivatives product identification system that can be applied across the market.
The initiative has been backed by buy-siders and custodians alike, along with 18 other major industry participants include Goldman Sachs, Barclays and Bloomberg. 
Danesh adds that if this methodology can be applied to ISINs for OTC derivatives then this will allow the industry to coalesce around a single consistent approach that also meets regulatory needs. 
"We are looking at how the ISDA initiative can be compatible and consistent with the ISIN approach," said Danesh.