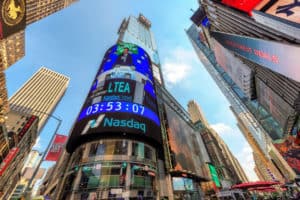 Exchange group Nasdaq has confirmed it will spin out its platform for institutional trading of private company stock in a major deal with several US banks.
Citi, Goldman Sachs, Morgan Stanley and Silicon Valley Bank (SVB) have made strategic investments in the private market platform, which Nasdaq said will become an independent company. Terms of the investments were not disclosed.
Founded in 2014, Nasdaq Private Market allows brokers and investors to access, manage and trade private company stock transactions via a global marketplace and technology solutions.
With its existing client relationships, technology and infrastructure, Nasdaq said the joint venture platform will continue to support tender offers, auctions, block trades and pre-direct listing continuous trading. It will also provide end-to-end settlement and an inter-broker marketplace through its alternative trading system.
"Today's announcement highlights our optimism about the evolution of the private markets," said representatives at Citi, Goldman Sachs and Morgan Stanley. "We have a long history of jointly supporting market structure innovation and fostering liquidity in the secondary markets."
The private market platform's core operating team in New York and San Francisco will remain in place under the joint venture. Nasdaq said its team has facilitated 477 private company transactions for 59,000 shareholders and has executed over $30 billion in volume for private companies.
"The private markets are anything but standard and have become more diverse than ever," added Eric Folkemer, president of Nasdaq Private Market. "Using the scale and distribution of our joint venture partners alongside our market leading technology and markets experience, Nasdaq Private Market will become the go-to marketplace that connects and manages the need of the entire private ecosystem through one platform."