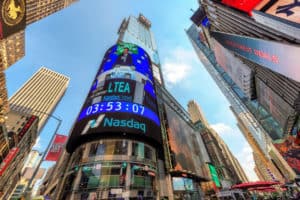 A start-up US trading venue backed by the likes of Goldman Sachs and Bank of America has chosen the execution platform from Nasdaq to power its upcoming alternative trading system (ATS).
The Nasdaq Execution Platform will fully host the PureStream ATS, which is expected to launch in the second quarter of this year, including system operations management, risk controls, venue surveillance, trade reporting, and clearing facilitation.
PureStream claims its ATS will allow institutional investors to execute transactions up to 40 times faster without price impact on their portfolio implementations. 
It uses percentage rate-based order types to govern matches and allows traders to discover prices using market trade reports from the consolidated tape instead of purely from the national best bid and offer a quote.
The news follows a recent Series A funding round where PureStream raised $14 million from major market participants including Goldman Sachs, Bank of America, and AllianceBernstein. Nasdaq Ventures also participated in the funding round.
"By changing the basis of a match and virtualising price discovery, PureStream's unique business model is enabling algorithmic orders to search, find, and yield more liquidity faster without price impact," said Valerie Bannert Thurner, SVP and head of the buy-side and sell-side solutions for market technology at Nasdaq. 
"In partnering with Nasdaq, PureStream will seamlessly leverage our market operating experience and technological scale to effectively manage its internal marketplace, further reduce expenses, and provide opportunity for more revenue generating activities as it launches its innovative market."
The end-to-end execution technology by Nasdaq powers over 2,300 companies in 50 countries, including capital markets infrastructure operators, market participants, banks and regulators.
"Our vision for creating this new institutional trading venue would not have been possible without our partnership with Nasdaq and leveraging its industry-leading market technology," added Armando Diaz, CEO, PureStream Trading Technologies. "As we launch our endeavour, time to market, infrastructure reliability, and scalability are critical components for success."